White Glacier Reception Desk Rose Quartz Countertops
Brand VIPO
Product origin China
Size 3200x1600mm/3000x1500mm/3000x1400mm/2500x1400mm
Thickness 12mm/15mm/20mm/30mm
Item PG5021
Warranty 10years
Materials 93% Natural quartz grid & Epoxy resin
Features Durable
Finished Customized
Applicaton Kitchen,Bathroom,Countertops,Vanitytops,benchtop,Furniture,House,Villa,Apartment,Project
Years of experience has created STONITE to a more reliable.
White tones always bring warmth and calmness to the space. Often people dream of a white beach house. White bathtub, wash basin,wall and floor create a contemporary look, bring home coastal location feeling along with sophisticated aesthetic that customer desired.
A white quartz countertops with classic style,will make your house more luxury feeling.
White Glacier Reception Desk Rose Quartz Countertops
PRODUCT FEATURES
Product Details:
Brand:

VIPO

Size:

3200x1600mm/3000x1500mm/3000x1400mm/2500x1400mm

Application:

Kitchen,Bathroom,Countertops,Vanitytops,benchtop,Furniture,

House,Villa,Apartment,Project,and so on...

Thinkness:

12mm/15mm/20mm/30mm/customer setting...

Product Type:

Quartz

Item No.:

PG5021

Product Name:

Glacier

Warranty:

10years

Materials:

93% Natural quartz grid & Epoxy resin

Features:

Durable

Finished:

Customized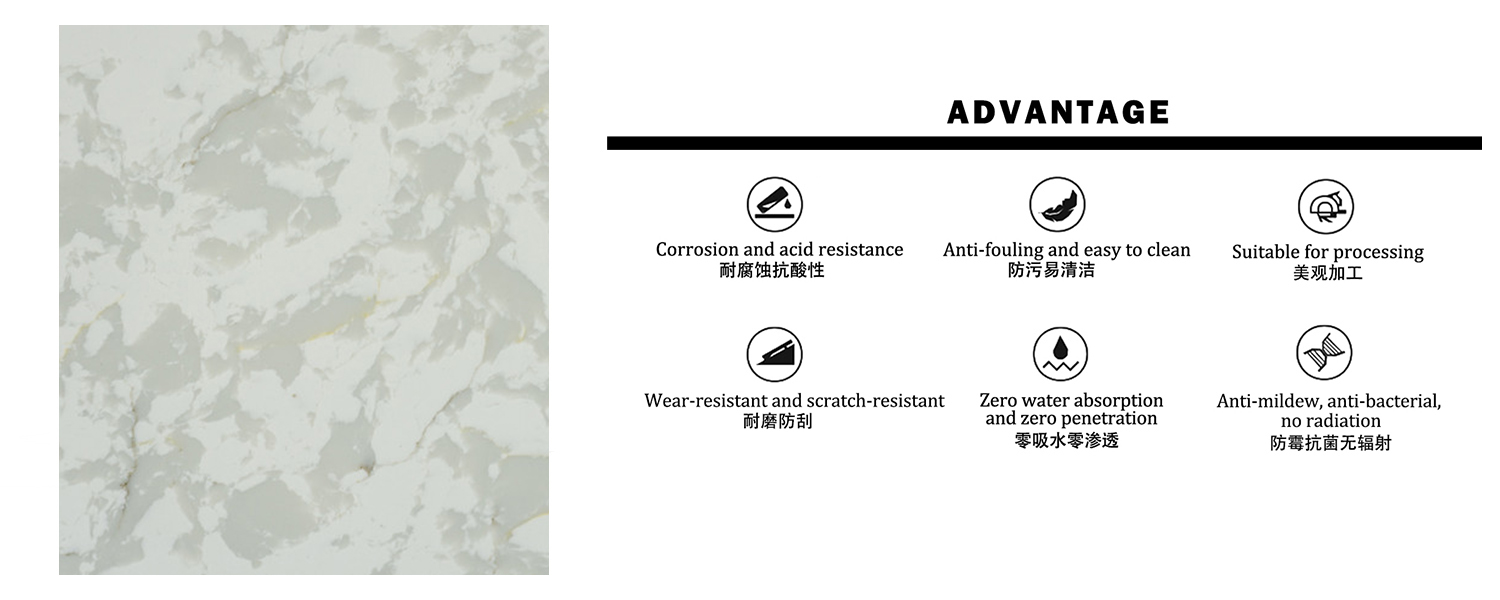 Countertops are indispensable in our daily lives, such as cabinet countertops and window sills at home, cashier counters, guide tables and test benches in business, and so on.
The application of quartz stone in many countertop materials has taken the first place. Why do more and more countertops use quartz stone?
VIPO quartz stone countertop:
It has a smooth and soft curve, which divides the overall space level, like a light and elegant breeze blowing in the shop.

It can be matched according to the favorite color, multi-color matching, single-color matching, to create a suitable store Style

One shop, one bar, and enjoy the time of taste of retro light luxury.

Modern light luxury, an ideal space that can hold the taste, tolerate emotions, and calm down the heart and soul.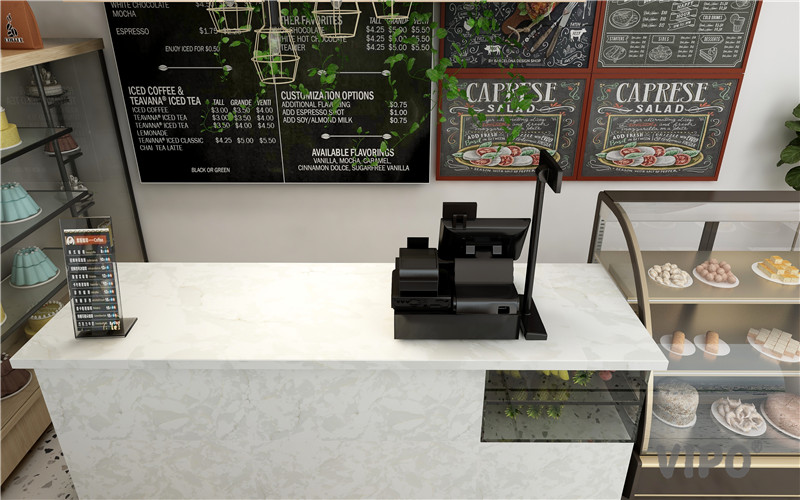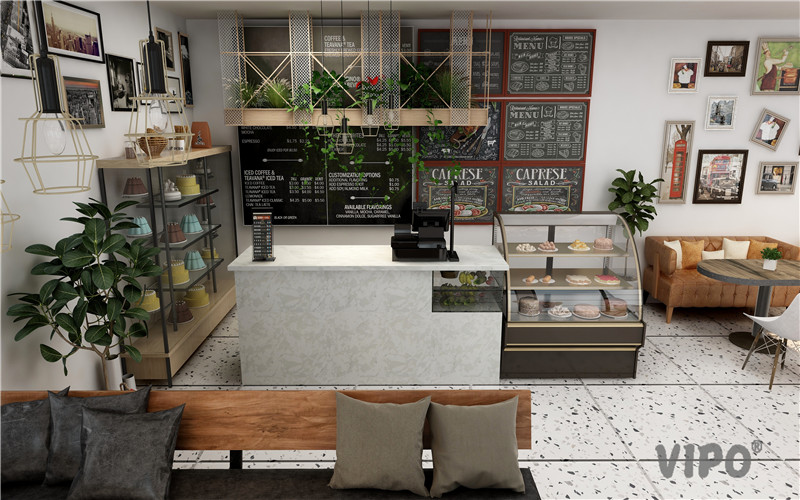 Package(Conventional loading method):
| | | | |
| --- | --- | --- | --- |
| Thickness: | Piece per pallet | Pallets per container | Piece per container |
| 12mm | 20 | 7 | 140 |
| 15mm | 17 | 7 | 119 |
| 20mm | 14 | 7 | 98 |
| 30mm | 9 | 7 | 63 |
About Quartz
Quartz is one of the most abundant minerals in the earth's continental crust.Quartz is a mineral that has been used in the making of kitchen and bath countertops for many decades.This is one of the top countertop materials that is purchased amongst builders, contractors, and homeowners alongside marble and granite.
Since quartz is one of the most durable minerals on the planet, you can bet that your quartz countertops will have a very long lifespan as long as you take good care of them.

The application of quartz stone
Can be widely used in public buildings (hotels, restaurants, banks, hospitals, exhibitions, laboratories, etc.)

Can be widely used in the field of family decoration (kitchen table, wash table, kitchen and bathroom wall, table, tea table, window sill, door cover, etc.).
The advantages of quartz stone
The surface is durable and bright: compact structure, no microhole, no water absorption, strong anti-fouling, the daily condiments in the cabinet can not penetrate, after precise polishing treatment, the surface of the product is easy to clean and take care of, can maintain lasting luster, bright as new.

Scratch not flower: the product surface hardness is higher than the general iron, can be placed on the table any household items. (but should avoid diamond, sandpaper, hard alloy and other high hardness items scraping the table)

Resistance to dirt: quartz stone table has a high level of no pore structure, water absorption rate is only 0.03%, enough to prove that the material basically no penetration phenomenon, every time after the use of the table with water or neutral detergent to wash the table clean.

Anti-aging, no fading: the aging phenomenon of the material can not be seen at normal temperature; Not under strong sunlight for perennial irradiation, color does not change too much.

Non-toxic no radiation: the authority of the state health organization for the demonstration of non-toxic health materials, can be directly in contact with food.

The maintenance of quartz stone:
do not put high temperature or hot pot directly or long put on the table: directly from the stove or oven, microwave oven to take down the hot pot, hot pot or other high temperature utensils and utensils will bring damage to the table.
The operation should try to avoid using sharp items to scratch the table: no matter what kind of table to choose, should be on the cutting board cutting food, in addition to avoid leaving knife marks, damage the blade, but also can do better cleaning and hygiene.
The table as far as possible to keep dry: keep the table clean, as far as possible not to soak the table for a long time or water, keep the table clean and dry.
Compare with the traditional building material such as ceramics, engineered stone not only function is diversiform, color is rich, application scope is more extensive, but is non-toxic, low radioactive, flame retardant, non-sticky oil, no pollution, anti-bacterial and anti-mildew, abrasion resistance, impact resistance, easy maintenance, easy to fabricate. Engineered stone technology originate
...more